Building high quality homes on time, on budget, and to your individual specification.
Seanik Homes Inc. will get you through conception to completion.
We will help you through this exciting process with as much or as little input you would like to give us. We realize that this is your home, and it must reflect and represent your personal life style and taste.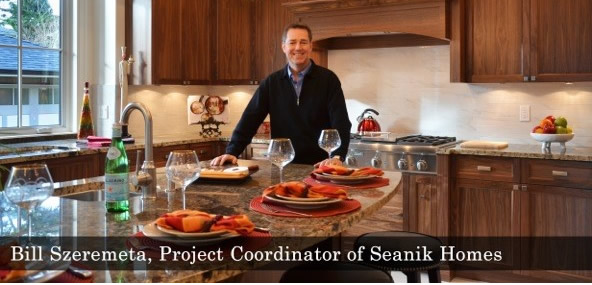 1

STEP: "BUILDING LOT SELECTION"
Help with selection of your building lot to ensure it is suitable for building your dream home.
Arranging for land survey, permits, city inspectors, etc.
2

STEP: DESIGNING YOUR HOME"
List of your requirements for bedrooms, baths, kitchen, media room, steam room, etc.
Architectural designs & layout
Security, audio, and intercom systems
Lighting fixtures
Kitchen/Bath fixtures and hardware
Appliances and fireplaces
Wall colour selections
Hardwood floors, tiles, crown moldings
Windows & doors
Heating and cooling systems
3

STEP: "BUILDING YOUR DREAM HOME"
Directly in charge of all trades people
Quality control
Meeting with all City Inspectors, architects, engineers, etc.
4

STEP: "LANDSCAPING YOUR HOME"
Designing the walkway to and from your home
Plant selection and placement
5

STEP: " ACCOUNTING & BOOKEEPING"
Monthly records of all payable invoices
GST/PST/HST Calculations
National Home Warranty
6

STEP: "ENJOING YOUR HOME"
Initial Clean up
Enjoy your dream home